Field75
It was a warm autumn afternoon, when Akira first presented TK-01, what was to become Field75 to us. There wasn't much hesitation before we said 'yes' to his inquiry of collaboration, and the 6 months of work that brought Field75 before you.
Being our second project with CIY studio after TES68, the extent of our involvement and collaboration in Field75 is much deeper and broader. Having been interested in gaming keyboards for a long time, we were eager to try and implement some of our new ideas on TK-01, and gave it a NuPhy name: Field75.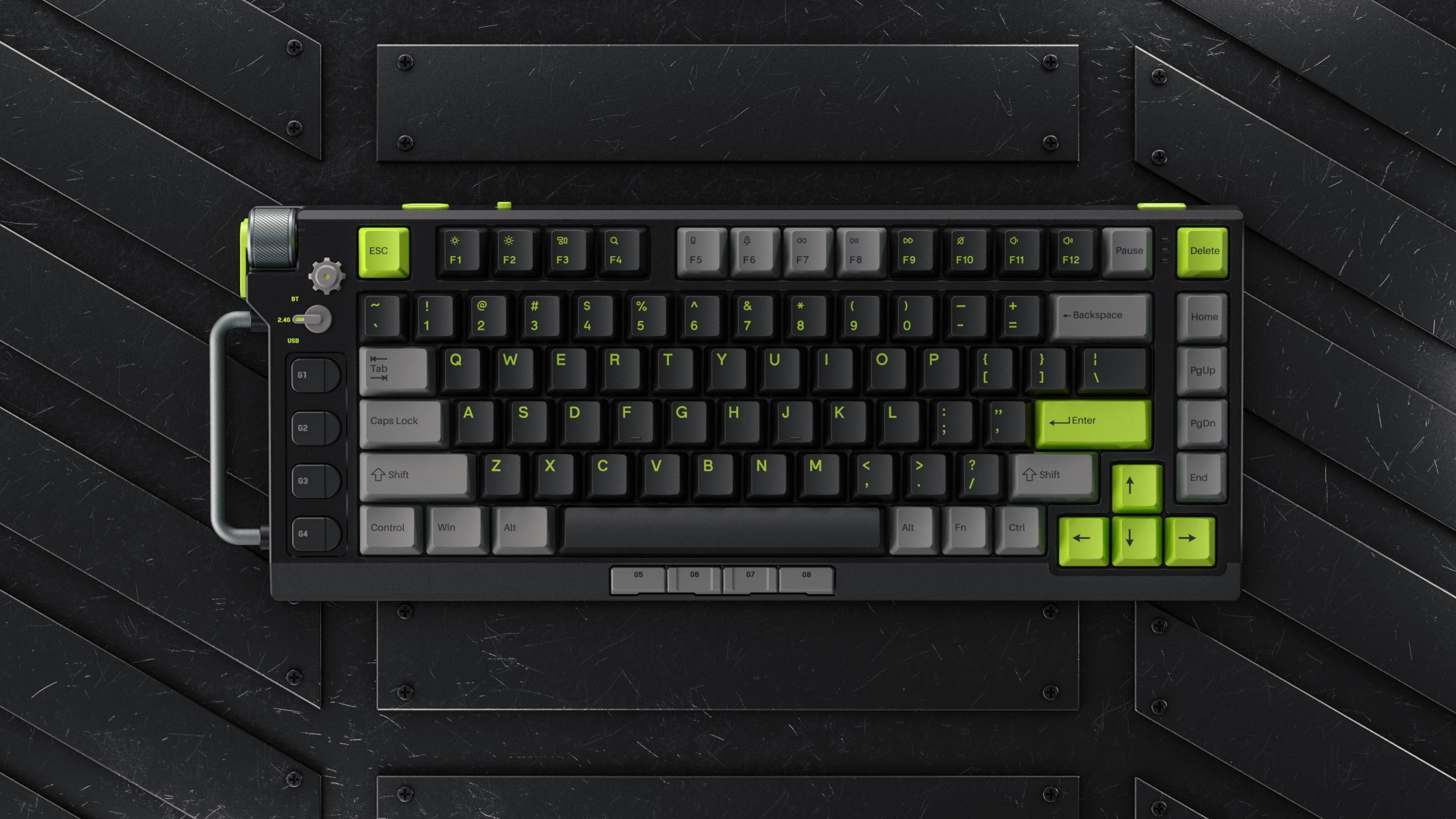 TK-01 is a military/WWII themed keyboard and heavily borrow from military equipments for its rugged/outdoor look and to create an 'in the game' feeling. We like the idea and believe we can best preserve it in the military-inspired components and controls spread over its surface. The coloring, on the other hand, is where we think we can introduce a bit NuPhy-ness and expand the scope of the 'in the game' idea to be more inclusive. Other than the more traditional 'Electro' which radiates mountain dew and the 'Gravity' color scheme with its Hi-ν Gundam look, the more radical 'Noether' and 'Ethereal' schemes, inspired by the character D.VA from Overwatch and the 'Dune' series, are among the color choices. Choosing the color schemes, however, is the easier part, given the abundance of Field75's controls and the material and finish each requires, the actual coloring present significant difficulties for mass production which we eventually overcome. 
Our work on the exterior of the keyboard didn't stop here, textures on the top frame are optimized to give it a more refined look, while the bottom case adopts the semi-transparent+stainless steel nameplate NuPhy stylization. The three semi-transparent 'portholes' are carefully engineered with two overlapping silicone plates with different pellucidities to enable just the right amount of RGB light penetration.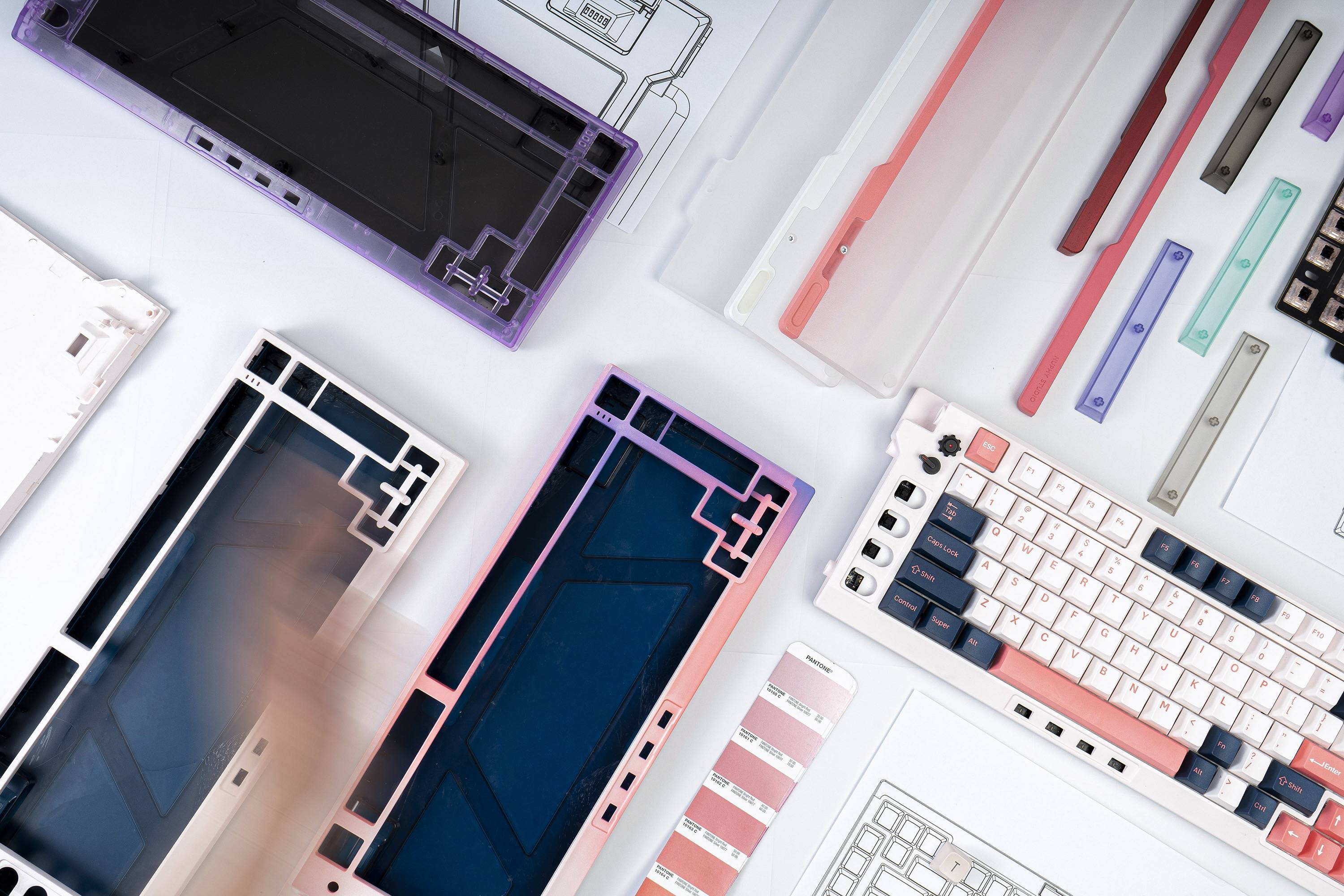 In addition, we made sure there is a Twotone wrist rest ready made for Field75. UV coated to introduce a color gradient on the acrylic, the looks of the rests naturally fits into a concordant color theme with the keyboard. The aluminum part of the rest instead, is colored with the process that produces the most enduring coating for its color: anodization for black, electrophresis for white, electrostatic painting for yellow and pink.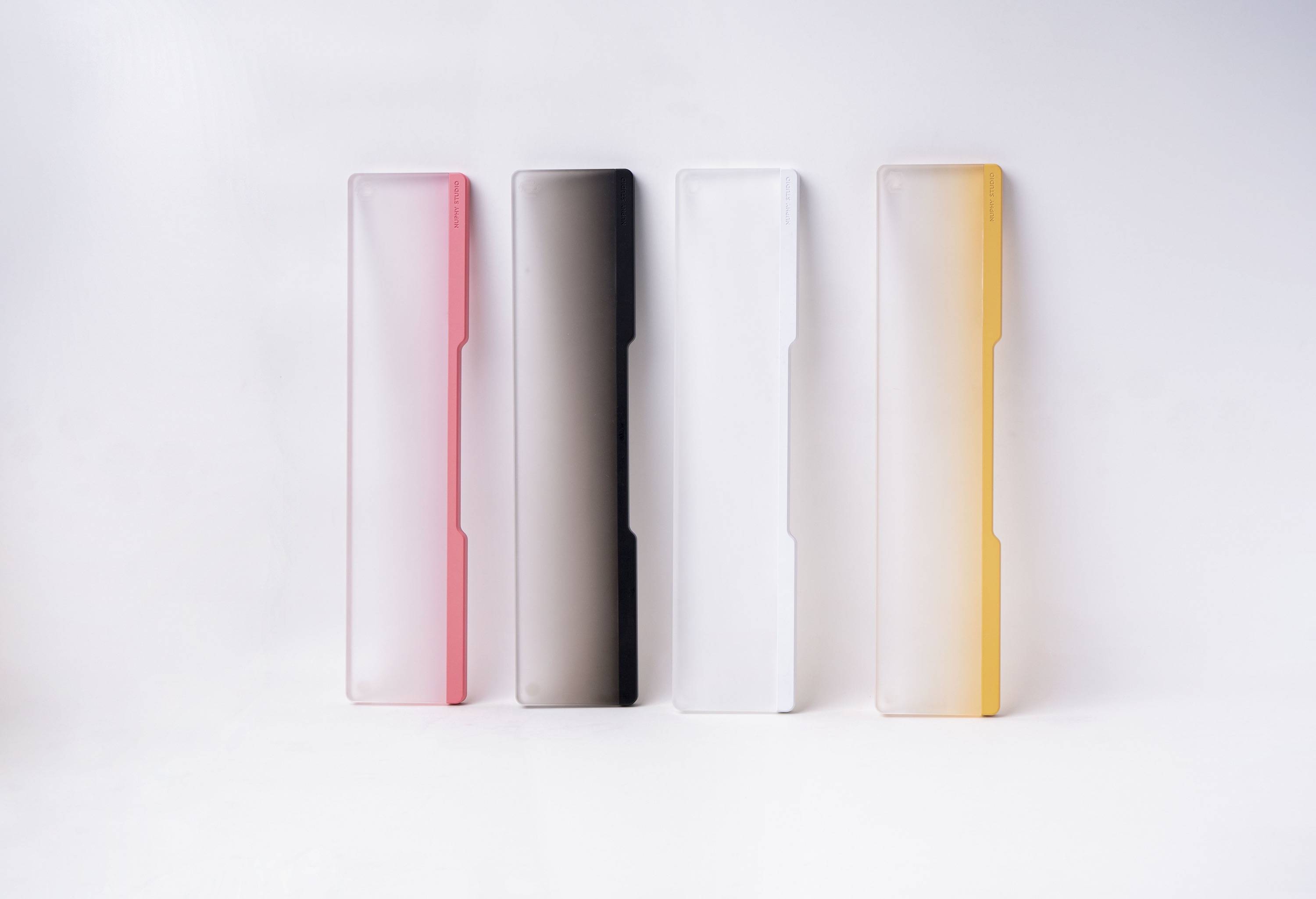 Pre-building a custom quality gaming keyboard.
Our arms race to improve pre-built keyboard sound and feel to meet custom keyboard standards has reached Field75, and shown no sign of slowing down. Structurally, the screws affixing the plate to the top frame have been removed to achieve similarly consistent touch feel with the top-mount scheme, while the plate itself is built using steel after extensive tests with different materials(including steel, Fr4, PC) show it to have the most appropriate sound and force characteristics for gaming. In terms of noise reduction, the same Poron plate foam and IXPE switch pad combo first seen on Air96 has been built into Field75 as part of a comprehensive, multi-faceted noise solution that also includes hollow-sound absorption silicone filling the cavity above the bottom case, and NuPhy's hallmark spacebar, the GhostBar.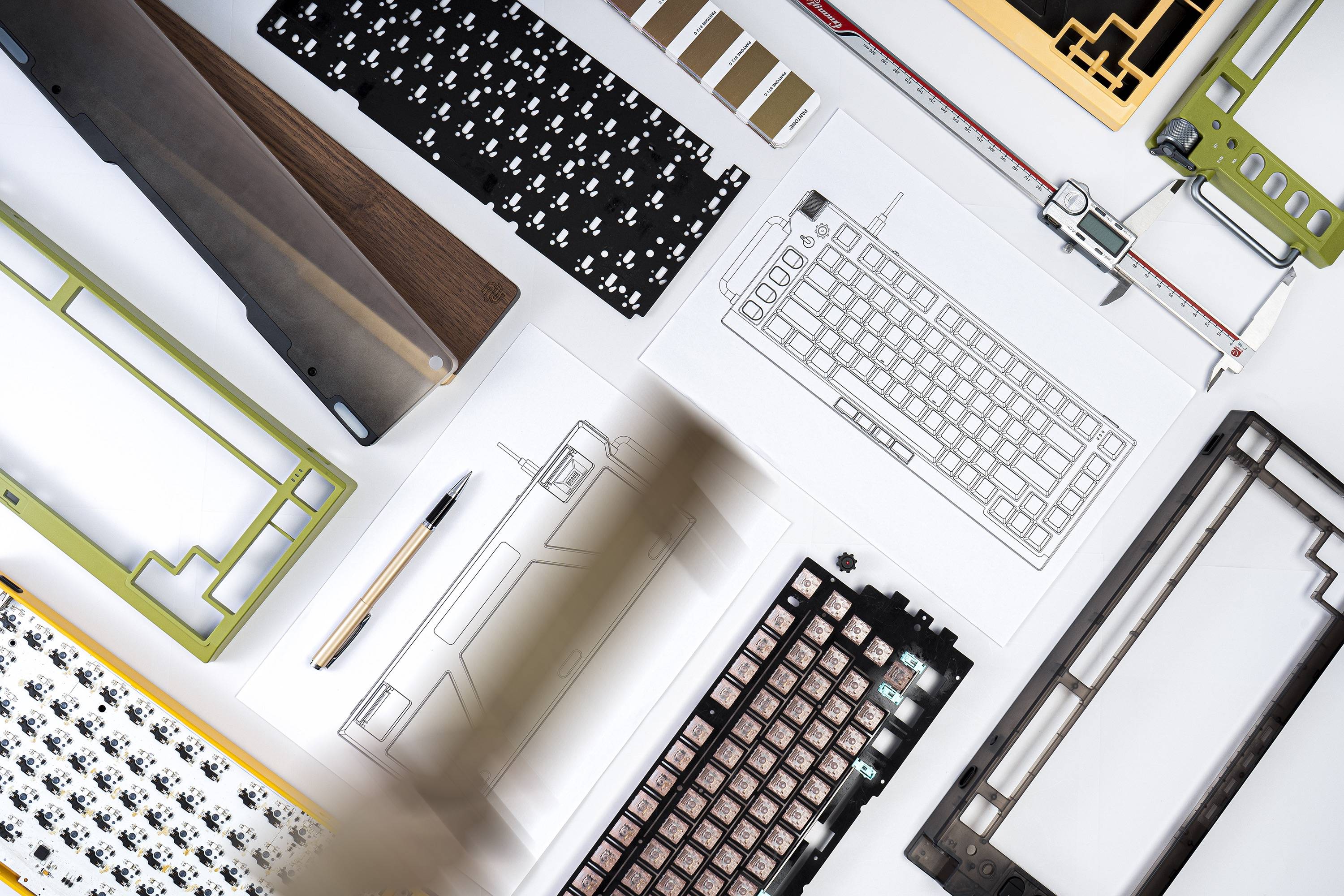 A workhorse with more than one trick.
Gaming maybe more of a PC than Mac thing, but that doesn't mean you will have to forgo the fun of Field75 for a boilerplate keyboard when trying to be productive. To help you enjoy your work as much as gaming, we retool the keycap molds with Mac legends, which to our knowledge is the first set of Cherry profile keycaps with Mac multimedia keys support. Turns out that switching back to your day job from the superhero mode is way easier than what Hollywood depicted.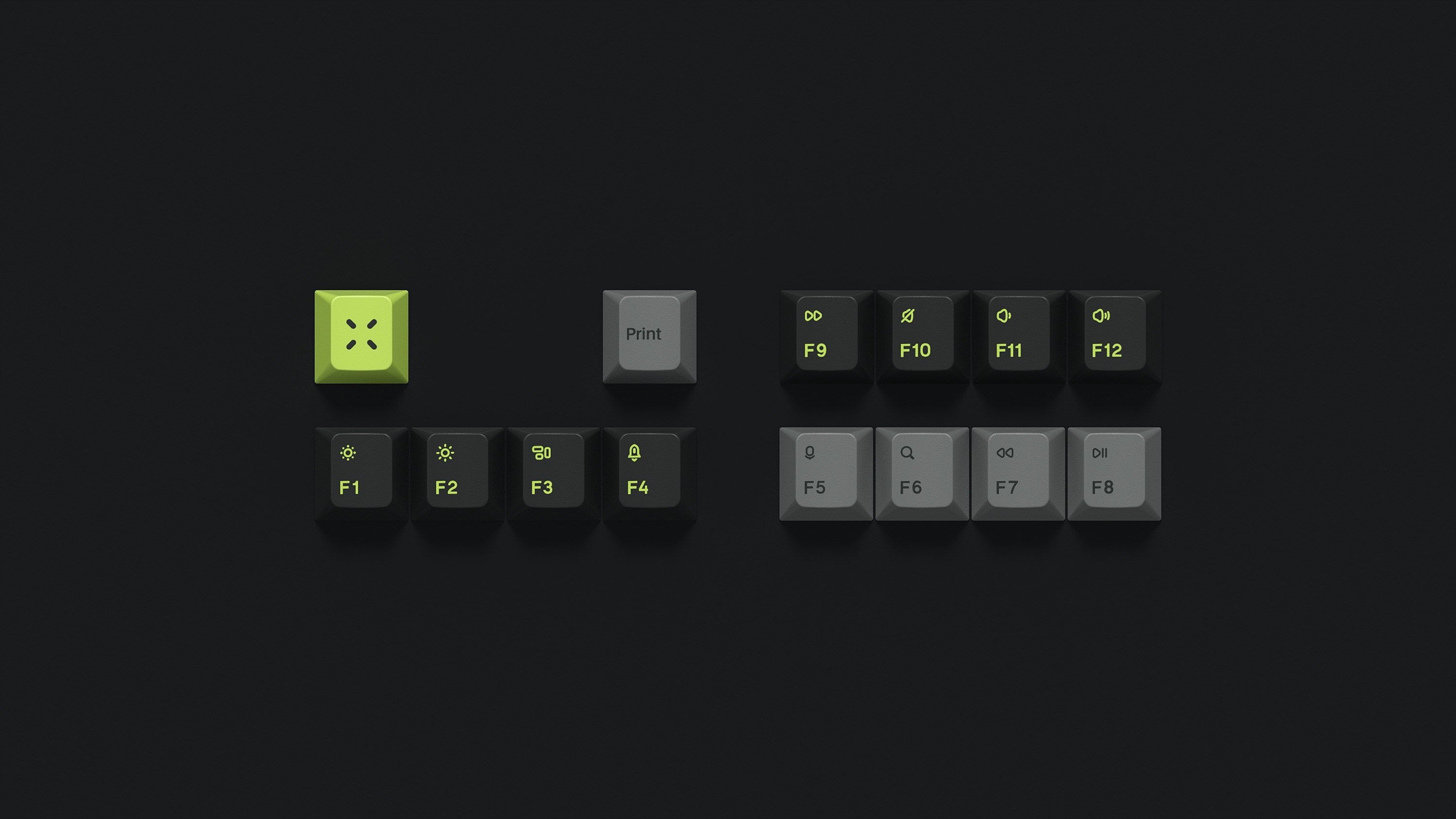 As a prototype designed and tooled in 2020, TK-01 still feels close to us 3 years later. And we want to push deeper and understand the story behind its creation, so we reached out to Akira for an interview, which he gladly accepted.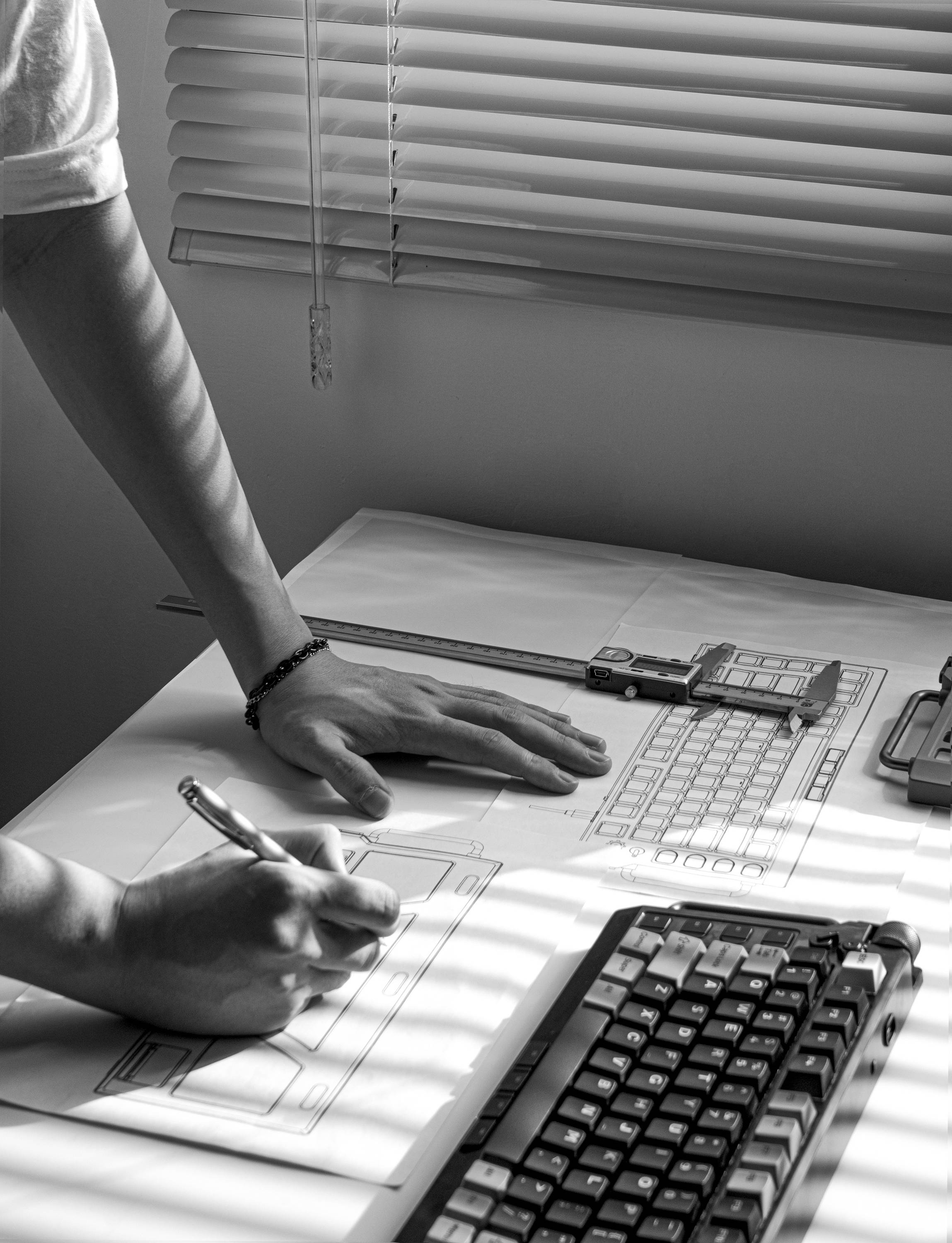 Q: We all know TK-01 is the prototype of Field75, can you talk a little bit about what inspired you to come up with such a design?
So when designing TK-01, I have considered many classic video game elements that could be fused conceptually into a mechanical keyboard, such as those from sports games, racing games, and firearms. Eventually I settled on this general idea of military hardwares, the machines of war, the battle-hardened ruggedness they represent, their reliability, which as gamers you would want to see on your gaming keyboard.
And eventually they give rise to this a little bit uncommon look, like the metal handle, you can find components of similar functions on a jeep, or ammo box. The RGB knob and mode switch look like they came from a field radio machine, the volume knob, from one of my favourite speaker designs, the Muzen Wild Speaker. All that, and a little bit more mechanic touch and feel. I want to add here, that we place the volume knob on the left side to make it easier to adjust the volume during game-playing, with your right hand staying on the mouse. And all the eight configurable buttons are not round, but uniquely shaped. The real/virtual war inspired details are not limited to what I mentioned, you can find more if you keep exploring.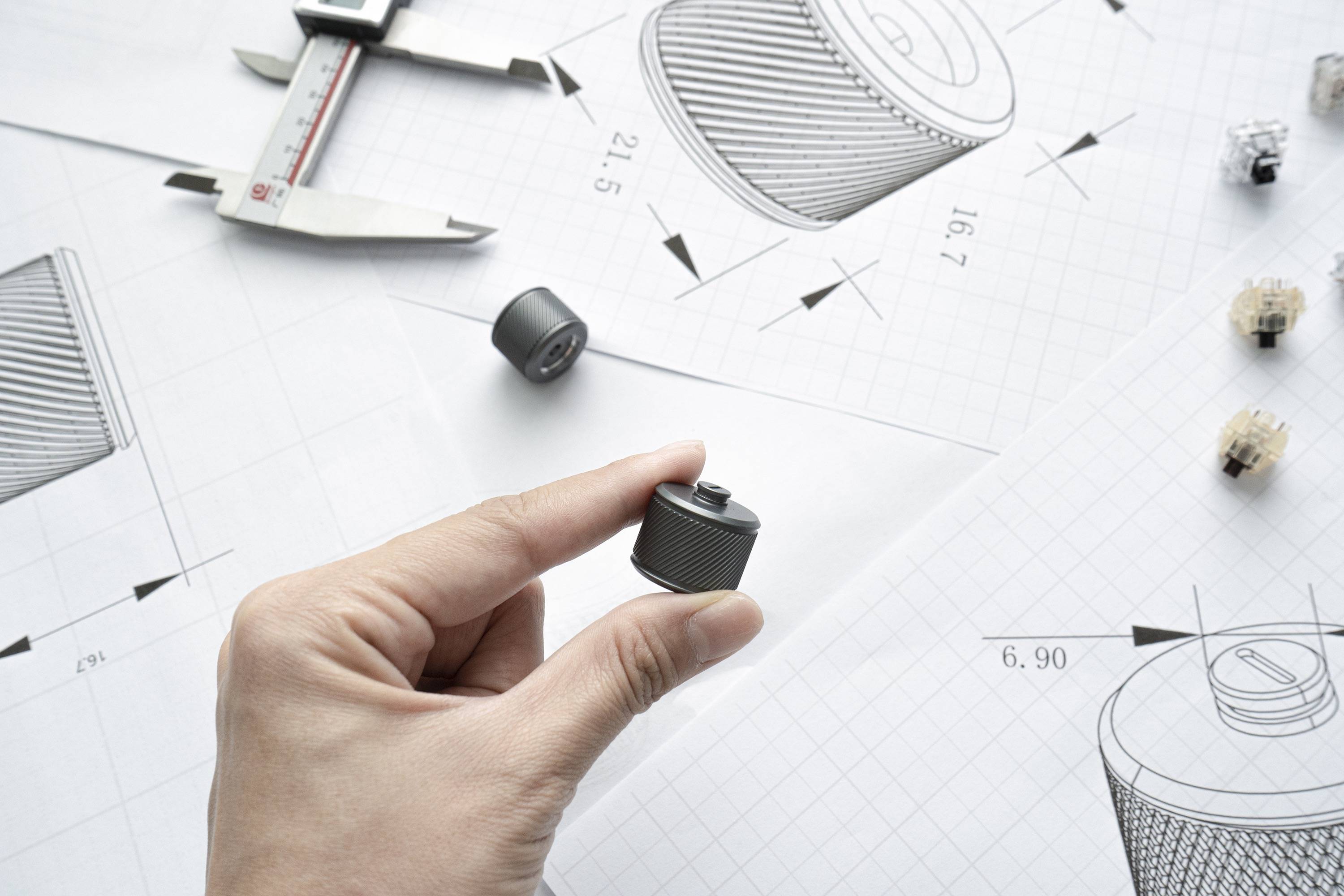 Q: So the design of TK-01 is quite unique, but all these buttons, they seem overwhelming, do you think this is a 'good design' from the users' perspective?
So what I want to say is we can take a look at one of the classic designs in the IT peripheral industry, the Logitech G502, it has a lot of configurable buttons, and is well liked by its users. And we want to create something similar: a very customizable and configurable mechanical keyboard that users can appreciate, albeit TK-01 is war/WWII themed while G502 has a futuristic look.
And we actually had extensive discussions on UX, like those 4 configurable buttons below the spacebar, for which we use micro switches that are usually used in mouses, and have calibrated the triggering pressure and button height to minimize chances of mistriggering, You could even turn them off with our driver.
In short, our designing principle is to focus on finding ways to enable a smoother, more reliable UX. This is the first time we can turn such a conceptual product into something you can buy on the market, and we are really eager to see how far it can go there.
Q: What is your interpretation of a conceptual product, how is it different from a non-conceptual product?
I think a conceptual product has to be disruptive, to part ways with what is usually considered acceptable in designing, like the kind of boxy look you see on every keyboard. With TK-01 we want it to be distinguishable as well as distinctive-you know it is different by just looking at it, among a bunch of other keyboards, and the look should give you some clues about what using it feels like.
Q: Do you have any plans for a TK-02, or even a TK-03, if TK-01 does well commercially?
The plan is to have TK-01, TK-02, TK-03 correspond to conventional, modern, and future warfares respectively.
 
Frankly, TK-01 is still a tad old school, which draws most of its inspirations from WWII weapons and military equipments. With TK-02 there will be more modern, advanced military technology inspired elements in the design. And TK-03 will be this sci-fi themed, futuristic and tech-maximized product. In any case, all keyboards in this series should look 'in the game', not just another conventional keyboard that you happen to use for gaming.
Q: The last question, what do you think of NuPhy Studio, why do you choose us for the co-branding?
NuPhy has this kind of vibe which separates it from other brands, the same I want from TK-01. You can see they are always more about the fun you can derive from a product and less about money. This boosts my confidence in them, and makes me curious to see how they are going to remix TK-01 with NuPhy style.
 
The other reason is their global audience, whom I wish to present TK-01 to, it is exciting to think about the kind of global, diverse feedbacks you can get from such an audience, each of their unique experiences with it.
As our first venture into the gaming keyboard, we took it on us to be bold and give you as much difference as possible by innovating in coloring, structure, and switches and many other aspects of Field75. Our initial doubts were quickly overcame by the joys of innovation which is its own reward, and we will stay committed to.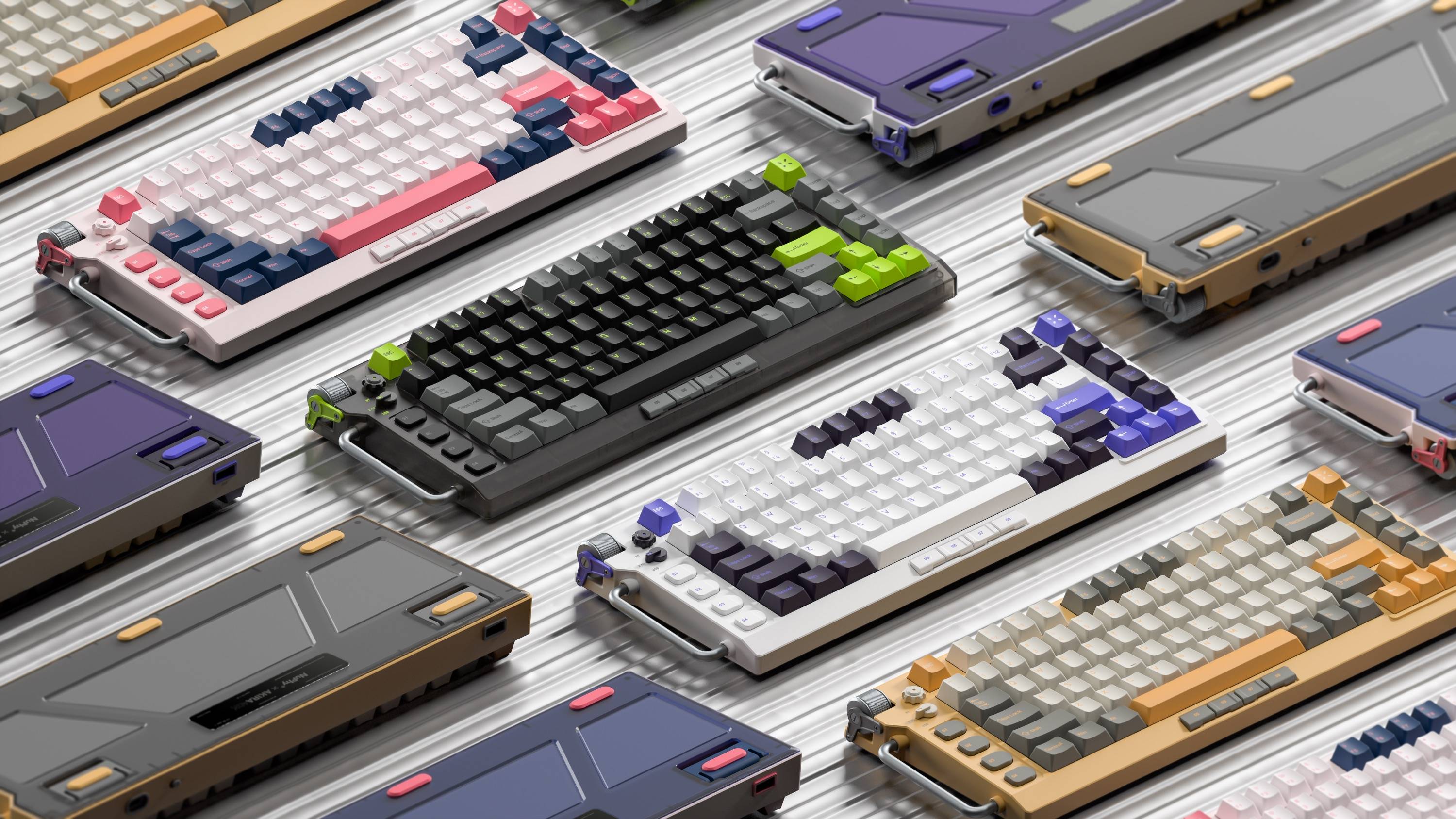 ---